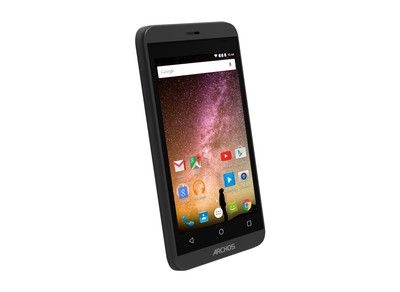 Click here to see similar items, and to buy.
Welcome to Our Official eBay StoreHomeNew ArrivalsEnding SoonSTORE LINKSPC ComponentsDesktop PCLaptopsMonitor & TVNetworkingStorageSalePC ComponentsDesktop PCLaptopsMonitor & TVNetworkingStorageSaleCategoriesPC ComponentsDesktop PCLaptopsMonitor & TVNetworkingStorageSaleConsumablesPeripheralsAudio VisualStore NewsletterAdd my Shop to your Favorites and receive my email newsletters about new items and special promotions! SubscribeSecure PaymentsWhy Choose Us!Archos Power 40 4″ Dual SIM 0.512GB 8GB 1950mAh Black – 503175 DESCRIPTION40 Power, 10.16 cm (4″) , TFT, WVGA, dual-SIM, 3G, GSM, 512MB RAM, 8GB, 802.11 b/g/n, microSDHC slot, Android 5.1, 1950mAh, Li-Pro Struggling with the battery life of your phone? Then you will love the ARCHOS 40 Power. The battery offers two full days of multimedia use. All of the ARCHOS 40 Power's features are packed into a 10.3mm thick device that weighs only 100g. The quad-core processor, the dual cameras (5MP/2MP) and the 4-inch display work together to deliver an on-the-go experience.
Longer battery life
The ARCHOS 40 Power is aptly named. With its 1 950 mAh battery, this device can easily last two full days. No need to be always tied-up to your charger. That's a thing of the past; adopt a free state of mind.
Quad-core processor
A powerful device is in your hands. The ARCHOS 40 Power has a mighty quad-core processor capable of handling challenging situations. Application multitasking is one of its numerous capabilities. Enjoy video games and apps like never before.
4 display
The screen of the ARCHOS 40 Power will surprise you. The 4-inch panel is comfortable to use and hold: perfect to enjoy videos and photos on the move.
Android Lollipop and Google Play
Discover Lollipop 5.1 with the ARCHOS 40 Power. It offers better battery management and a load of features for an enhanced experience.
Fully Google certified, it includes the best in mobile apps from Google as well as full access to the Google Play store with over 1.3 million apps and games plus music, movies, books and magazines so you can get the most out of Android. Product Serial Number is Always Noted Before Shipment.SpecificationDisplaySecond displayNoOrientation sensorYesTouchscreen typeCapacitiveTouchscreenYesDisplay resolution800 x 480 pixelsDisplay diagonal10.2 cm (4″)ProcessorProcessor familySpreadtrumProcessor cores4Processor frequency1.3 GHzProcessor modelSC7731StorageRAM capacity0.512 GBInternal storage capacity8 GBCompatible memory cardsMicroSDHCMaximum memory card size32 GBCameraRear camera flashYesFront camera typeSingle cameraRear camera typeSingle cameraRear camera resolution (numeric)5 MPFront camera resolution (numeric)2 MPAuto focusYesFlash typeLEDNetworkingSIM card capabilityDual SIM3G bands supported900,2100 MHz3GYes4GNo2G standardsEDGE, GPRS, GSM3G standardsWCDMASIM card typeMiniSIM + MicroSIMWi-Fi standardsIEEE 802.11b,IEEE 802.11g,IEEE 802.11nBluetoothYes2G bands (primary SIM)900,1800 MHzWi-FiYesGPS PerformanceAssisted GPS (A-GPS)NoRadioFM radioYesPorts & interfacesUSB portYesUSB connector typeMicro-USBTechnical detailsSIM card typeMiniSIM + MicroSIMForm factorBarColour of productBlackMessagingShort Message Service (SMS)YesMMS (Multimedia Messaging Service)YesFile formatsAudio formats supportedAAC,AAC++,ADPCM,MP3,OGG,PCM,Vorbis,WAVVideo formats supported3GP,AVI,MP4Image formats supportedBMP,GIF,JPEG XR,PNGDesignColour of productBlackForm factorBarPerformanceOperating system installedAndroidSIM card typeMiniSIM + MicroSIMOperating system version5.1NavigationPosition locationYesAssisted GPS (A-GPS)NoMultimediaAudio formats supportedAAC,AAC++,ADPCM,MP3,OGG,PCM,Vorbis,WAVVideo formats supported3GP,AVI,MP4Image formats supportedBMP,GIF,JPEG XR,PNGFM radioYesSoftwareOperating system installedAndroidOperating system version5.1BatteryBattery technologyLithium Polymer (LiPo)Battery capacity1950 mAhStandby time (3G)192 hContinuous video playback time5.5 hMemoryRAM capacity0.512 GBWeight & dimensionsWidth64 mmDepth10.3 mmHeight123.5 mmWeight100 gCertificatesHead SAR (EU)0.776 W/kgBody SAR (EU)1.49 W/kgPackaging contentAC adapter includedYesHeadset includedYesBattery packYesQuick start guideYesReturnsWe only offer a 28 Days return policy, if you have any problem after this please contact Manufacturer DIRECTLY. we do not take any responsibilty after this.For more details please see our Terms & Conditions.DeliveryAll items are dispatched with in 24 Working Hours and can take up to 5 working days to arrive. we also offer a next day delivery option for all our products for a Small Fees.Please Note we can not deliver on Weekends and Bank Holidays. Deivery Time stated above does not include Weekends and Bank Holidays.PaymentWe only Accept PayPal on eBay from Verified users only. for more payment options please give us a Call on 01274 800 808About UsWe are UK Based Online Retailers Since 2005. We Offer over 200000 Products and can ship all accross to EU. for more information please contact us.QUICK LINKSNew ArrivalsEnding SoonOur FeedbackAbout UsNewsletterSign up to our newsletter for special dealsSUBMITWe Accept OnlySmart Tech 786 Ltd Copyright © 2005 – 2018. All rights reserved.
Click here to buy, and to see similar items
---
Category:  Mobile Phones and Communication:Mobile and Smart Phones
Location: Bradford, West Yorkshire