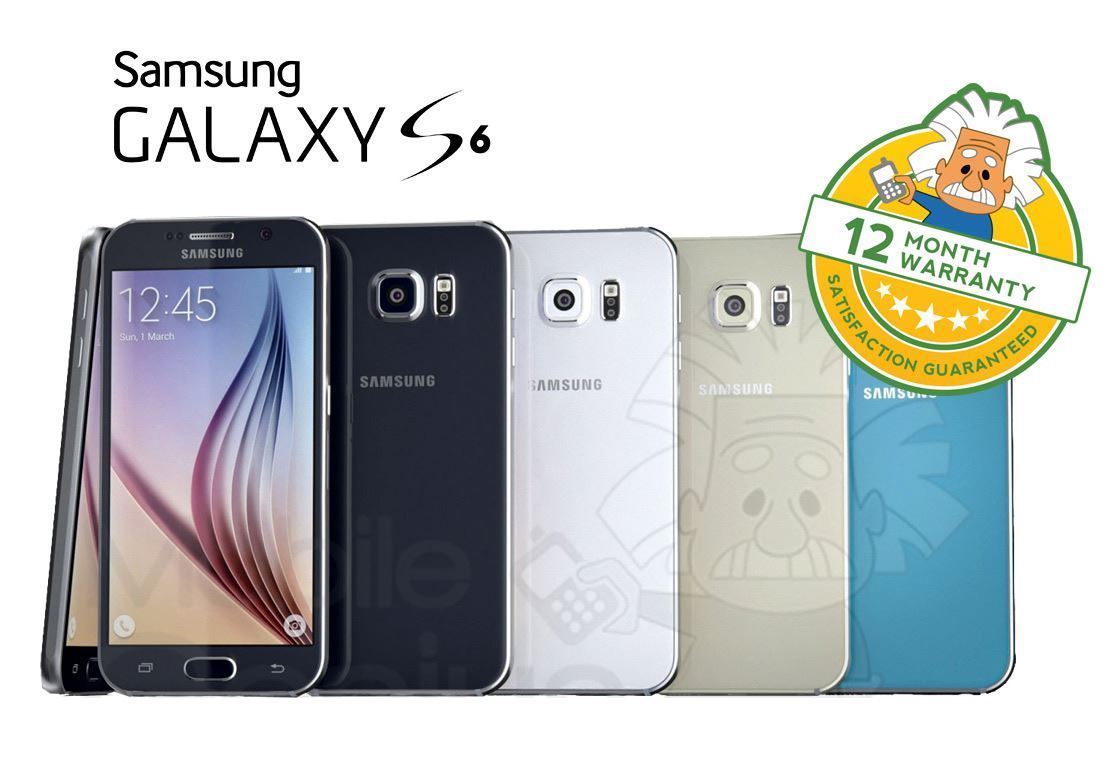 Click here to see similar items, and to buy.
Samsung Galaxy S6 G920F in Black Sapphire (Unlocked) 4G LTE Android Smartphone with 32 GB Storage & 16MP Camera 
These mobile phones are all Professionally tested, refurbished and reset by our in-house engineers. All phones are 100% working and intact and come with our 12 month warranty. Select the colour and cosmetic condition that best matches your needs. 
Samsung Galaxy S6
Next is Now
Wonderful display – 5.1 Quad HD Super AMOLED 2560 x 1440 (577 ppi)
Super Fast Octa-Core 64 bit processor
16 MP front Camera and 5MP rear camera – both impressive f/1.9
wireless charging & Fast charging (both chargers sold seperately)
A perfect union of beautifully crafted glass and precision-cut metal. It's unbelievably solid and flawlessly beautiful. The innovatively slim physique is an effortless fit for your hand and life.

CRISPER & CLEARER.
The intuitive camera launches in a split second, capturing crisp and clear images even in low light situations.

FAST CHARGING.
After charging for just 10 minutes, you get 4 hours of usage. When you need to save battery, Ultra Power Saving Mode will help you conserve power.

INCREDIBLE POWER.
Faultless performance. For this next generation processor, 3D gaming or heavyweight multi-tasking is a breeze. Ultimate power efficiency is a plus.

CAPTIVATING VIEWS.
Innovative display components come together to create a vividly immersive and engaging viewing experience, whether indoors or outdoors.

ALWAYS READY.
The new S Voice recognizes your voice commands right away, and launches apps in seconds. One Shot Command simplifies routine procedures.
STREAMLINED PAYMENTS.
Leave your credit card at home. Samsung Pay is a fast, secure and convenient way to pay without hassle.
* Samsung Pay is available in certain countries, with certain devices, features, card issuers, and merchants. 
ModelGenuine Samsung Galaxy S6NetworkAs selected aboveConditionAs selected above(please see our note below about conditions)ColourAs selected above – chose between White Pearl, Black Sapphire, Gold Platinum, Blue TopazWarrantyFull FREE 30 day No Quibble Warranty & 12 month return to base warranty against manufacturer defect3G Compatible?YesCharger includedMicro USB cableIn the PackagePlease read carefully as not all phones come with a charger as standard. If you have any questions or doubt please don't hesitate to contact us.Samsung Galaxy S6 G920F 4G LTE Android Smartphone in Sapphire Black Unlocked 32GB 16Mp CameraOriginal batteryearphonesMicro USB cableFree PAYG SIMThe Mobile Genius Difference 
We pride ourselves on our Customer Service. We go the extra mile to keep our customers happy, time and again. Have a look at what some of our customers have said about our Phones :Better than described!! Swift delivery. Buy from this sellerAAAAA******** thanks this is a brilliant buy and really fast shipping thanksDelighted with phone, great condition, great value, great service. Many thanks.Arrived quickly and works perfectly! :) THANKYOUA very genuine, understanding, respectful eBayer, hope to deal with you soonCan't rate seller highly enough, excellent customer service. A+++++++++++As described, basically new, dispatched quickly, good phone seller.About Buying Recycled Phones 
Buying a recycled mobile phone is a great way to save money while still getting a great phone. It is important to remember however that you are buying a refurbished or recycled mobile phone. This means the phone is not new and will have some signs of wear, although all phones are in full working order. We test and clean each phone and make at least 2 phone calls to ensure call quality is suitable. 
We evaluate our phones based on common standards and try to be as accurate and consistent as possible. Please be sure you understand the Grade Description before purchasing. A summary is below.
A note about photos. Due to the way ebay works we are not able to post photos of each phone. We post our own photos of a sample of the model and grade to give you an idea of the condition. If you have any questions please do not hesitate to contact us.
PostageWe Post quickly – usually the same day, so you get your phone just as soon as possible.
Orders received before 3pm Mon-Fri are posted the same day. 
We use Royal Mail for delivery. Our Standard Free Service is 48 Hour delivery. Royal Mail are very reliable but do not guarantee delivery times unless using Special Delivery. If you need your phone on a guaranteed delivery basis please select Special Delivery.
Warranty & ReturnsThese mobile phones are covered by a "No Quibble" 30 Day Warranty & 12 month return to base warranty against manufacturer defect for your absolute peace of mind. 
Please note, damage to SIM tray pins either through use of an adapter or incorrect insertion of the SIM card is not covered by warranty and may invalidate your ability to return for a refund.  All our phones are double tested for 100% working SIM readers prior to dispatch.
If you think the phone is not working please contact us – it may be a simple issue with getting started and we are always happy to help.
Please see the full returns policy and conditions under the Terms & Conditions belowAll items must be returned in resalable condition and with retail packaging (where appropriate).If a phone is faulty we will replace the phone for free. If the phone is found to be working we will refund the purchase price. 
Customer SatisfactionYour happiness is our top priority. 
We strive to send out the best phones possible and to provide a quality and speedy service. Sometimes things happen outside our control (such as Royal Mail losing a package) but we will always do everything we can to make your purchase as smooth and quick as possible. 
If you have any concerns or questions please contact us before leaving any negative or neutral feedback so that we may have the opportunity to ensure your satisfaction.Grading Mobile Phones
All our phones are fully tested and 100% working at dispatch.
We classify the Cosmetic Condition using common standards into the following groups:AWhile clearly a used device the phone will be in Excellent cosmetic condition. The front and rear housing will show little or no sign of wear, with only very minor scratches or marks and no cracks present.B+Indicates the phone is in Very Good condition but not quite an A. Often its just one small scratch too many, or in the wrong spot. It will have had minimal use and may have a very few minor hairline scratches or very light scuff marks and has been very well cared for by its previous owner.BIndicates the phone will be in Good overall condition. The front and rear housing will show some signs of wear and may have some scratches and worn spots present from general day to day use rather than any significant damage. The screen will be clear or mostly clear.C+This is a mobile that while clearly well used is in Goodcondition, but will have some spots that are just a bit too worn for a B. This may mean the front or rear housing will have clear signs of usage and will have more evident scratches or scuffs. Edges may have some finish worn off. The phone may have a more worn back but the screen is very clear. Often a case hides most of the wear.C+ phones are often considered the best balance between value and condition.CIndicates the phone will be in Average or worn/poor cosmetic condition although still in full working order. The phone will show signs of prolonged day-to-day usage resulting in significant wear and will have scratches, cracks, scuffs and chips or finish rubbed off the corners but these can usually be hidden with a case. The screen may have dust underneath or noticeable hairline scratches and scuffs but will be legible and should be crack free. Usually the keys are all legible but some evidence of use is evident.
prepared by Mobile Genius
Click here to buy, and to see similar items
---
Category:  Mobile Phones and Communication:Mobile and Smart Phones
Location: llanelli, Carmarthenshire