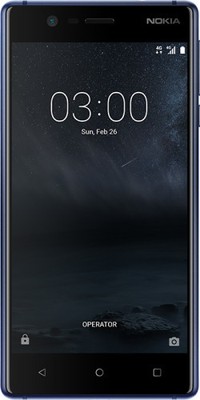 Click here to see similar items, and to buy.
Welcome to Our Official eBay StoreHomeNew ArrivalsEnding SoonSTORE LINKSPC ComponentsDesktop PCLaptopsMonitor & TVNetworkingStorageSalePC ComponentsDesktop PCLaptopsMonitor & TVNetworkingStorageSaleCategoriesPC ComponentsDesktop PCLaptopsMonitor & TVNetworkingStorageSaleConsumablesPeripheralsAudio VisualStore NewsletterAdd my Shop to your Favorites and receive my email newsletters about new items and special promotions! SubscribeSecure PaymentsWhy Choose Us!Nokia 3 5″ 4G 2GB 16GB 2630mAh Blue – 11NE1L01A01 DESCRIPTION12.7 cm (5″) 1280 x 720 IPS, GSM/WCDMA/LTE, MTK 6737 Quad-core 1.3Ghz, RAM: 2 GB, 8MP/8MP, Wi-Fi, Bluetooth, NFC, MicroSD, Android 7.0 Nokia 3
United we make memories
A beautifully designed Android phone with all the essentials
– 8 MP autofocus cameras, back and front
– LTE 4G connectivity
– 5 polarized HD display with Corning Gorilla Glass
Sculpted design, manufactured with care
Nokia 3 comes with our classic design hallmarks: a beautifully crafted and sculpted polycarbonate back, a solid-feeling aluminium frame, carefully finished details, and optimized performance for everyday use.
Purposeful technology, quality materials
Weve selected technology and materials to make daily use a joy. The sculpted 5″ display with Corning Gorilla Glass and the precision-machined full aluminium frame provide protection where it counts.
Smartphones for life
For decades, Nokia phones have stood for beautiful, crafted design and excellent quality. This phone is no different: its built to take on life as you know it with durable and beautiful materials, great feel, and an ideal balance of performance and battery life. Whats best, your Nokia phone will stay secure and up to date with regular software updates.
Get great photos without compromise
Whether youre the king of selfies or love taking pictures with your friends, the Nokia 3 will help you get the shot. It has a 8 MP autofocus camera on both the front and the back. And you can save and share all your photos easily using Google Photos.
Watch and read easily on the polarized display
Say goodbye to squinting with the Nokia 3, you can enjoy your videos, reading and apps even while out and about in bright daylight thanks to the laminated and polarized HD display.
Pure, secure and up to date
Nokia 3 comes with Android Nougat, the full spread of Google Services and no unnecessary extras. You get an experience thats focused and clutter-free, and well make sure you keep getting regular updates, so youll always stay on top of features and security. Product Serial Number is Always Noted Before Shipment.SpecificationDisplayScreen shapeFlatSecond displayNoDisplay typeIPSOrientation sensorYesAspect ratio16:9Touch technologyMulti-touchDisplay brightness450 cd/mTouchscreen typeCapacitiveTouchscreenYesDisplay resolution1280 x 720 pixelsDisplay diagonal12.7 cm (5″)ProcessorProcessor familyMediaTekProcessor cores4Processor frequency1.3 GHzProcessor modelMT6737StorageRAM capacity2 GBInternal storage capacity16 GBCompatible memory cardsMicroSD (TransFlash)Maximum memory card size128 GBUSB mass storageYesCameraRear camera flashYesFront camera typeSingle cameraRear camera typeSingle cameraRear camera resolution (numeric)8 MPFront camera resolution (numeric)8 MPRear camera aperture number2Front camera aperture number2Auto focusYesVideo recordingYesFlash typeLEDZoom capabilityYesGeotaggingYesNetworking3GYes4GYes2G standardsGSM3G standardsWCDMA4G standardLTEBluetoothYes2G bands (primary SIM)850,900,1800,1900 MHzNear Field Communication (NFC)YesWi-FiYesGPS PerformanceAssisted GPS (A-GPS)YesWi-Fi positioningYesGPS (satellite)YesSubscriptionSubscription typeNo subscriptionPorts & interfacesUSB portYesUSB connector typeMicro-USBUSB version2.0Headphone connectivity3.5 mmTechnical detailsDisplay typeIPSUSB mass storageYesThemesWallpapersSubscription typeNo subscriptionProximity sensorYesPersonalizationIcons, Menu, ShortcutsPersonal info management (PIM)Alarm clock, Calculator, Calendar, Notes, To-do listFlight modeYesElectronic compassYesAmbient light sensorYesAccelerometerYesForm factorBarColour of productBlueMessagingE-mailYesShort Message Service (SMS)YesMMS (Multimedia Messaging Service)YesInstant messaging (IM)YesChatYesDesignColour of productBlueForm factorBarErgonomicsGyroscopeYesProximity sensorYesAmbient light sensorYesAccelerometerYesPerformanceGyroscopeYesOperating system installedAndroidVideo callYesThemesWallpapersSupport for contact groupsYesSubscription typeNo subscriptionProximity sensorYesPersonalizationIcons, Menu, ShortcutsPersonal info management (PIM)Alarm clock, Calculator, Calendar, Notes, To-do listOperating system version7.0 NougatMicrophone muteYesFlight modeYesAmbient light sensorYesAccelerometerYesNavigationPosition locationYesAssisted GPS (A-GPS)YesElectronic compassYesWi-Fi positioningYesGPS (satellite)YesCall managementVideo callYesVibrating alertYesSpeed dialingYesSpeakerphoneYesConference callYesCaller IDYesCall waitingYesCall timerYesCall holdYesCall divertYesSoftwareOperating system installedAndroidOperating system version7.0 NougatBatteryBattery capacity2630 mAhMemoryRAM capacity2 GBVideoVideo callYesManagement featuresSupport for contact groupsYesMicrophone muteYesWeight & dimensionsWidth71.4 mmDepth8.48 mmHeight143.4 mmPackaging contentAC adapter includedYesHeadset includedYesQuick start guideYesCables includedUSBReturnsWe only offer a 28 Days return policy, if you have any problem after this please contact Manufacturer DIRECTLY. we do not take any responsibilty after this.For more details please see our Terms & Conditions.DeliveryAll items are dispatched with in 24 Working Hours and can take up to 5 working days to arrive. we also offer a next day delivery option for all our products for a Small Fees.Please Note we can not deliver on Weekends and Bank Holidays. Deivery Time stated above does not include Weekends and Bank Holidays.PaymentWe only Accept PayPal on eBay from Verified users only. for more payment options please give us a Call on 01274 800 808About UsWe are UK Based Online Retailers Since 2005. We Offer over 200000 Products and can ship all accross to EU. for more information please contact us.QUICK LINKSNew ArrivalsEnding SoonOur FeedbackAbout UsNewsletterSign up to our newsletter for special dealsSUBMITWe Accept OnlySmart Tech 786 Ltd Copyright © 2005 – 2018. All rights reserved.
Click here to buy, and to see similar items
---
Category:  Mobile Phones and Communication:Mobile and Smart Phones
Location: Bradford, West Yorkshire