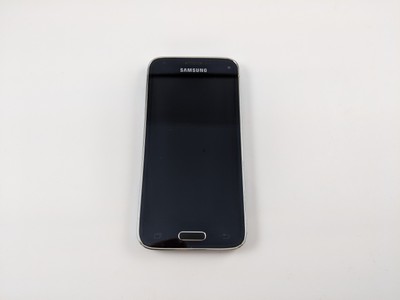 Click here to see similar items, and to buy.
MENUShopAppleBlackberryHTCSamsungMotorolaNokiaSonyLGFeedbackShopAppleBlackberryHTCSamsungMotorolaNokiaSonyLGFeedbackFast & Free Delivery United Kingdom OwnedBest Price GuaranteeSecure ShoppingSpares Or Repair – Trade Buyers Only
The handsets we have for sale on this listing have failed our quality control process and as a consequence are being offered for sale at a heavily reduced price for the intention of being repaired or broken for spares. We strongly advise buyers not to purchase these devices if you do not have the ability and expertise required to carry out the necessary repairs.All of our devices are processed through a rigorous quality control program to ensure that they are in full working condition, any devices that fail this process are offered for sale at a heavily reduced price with the fault (s) diagnosed.WHAT WILL I RECEIVE:Make: Samsung
Model: S5 Mini 16GB
Network: O2 UK
Grade: Grade B
Status: Fault (s) Found
Accessories: None
1 x Report of the completed QC assessment
FAULT (S):Fault (s) Found:
Microphone has an intermittent fault
Occasionally there may be further faults with the handsets because the initial fault prevents testing other functionality of the handset. For example, if the home button is faulty we would be unable to carry out tests that require the use of the home button, so with this in mind please understand that by purchasing this handset, you are accepting and assuming all responsibility for any further faults found and that the handset may only serve useful for parts.
Please note that we have not attempted to repair this handset, it has simply failed our quality control testing based on the above faults found, in some instances, these faults will be easily repairable, but regrettably occasionally the unit will only serve useful for parts.GRADE DESCRIPTION:At Second-Hand Phones.Com we individually Grade all our handsets – This phone is in Grade B Good Condition based upon the age of the handset and will show signs of medium wear and tear.OUR QUALITY CONTROL PROGRAM:All of our devices are processed through a rigorous quality control program to ensure that they are in fully working condition, any devices that fail this process are offered for sale at a heavily reduced price with the fault (s) diagnosed.
Our quality control program has 6 phases:
1-Visual inspection
Our in-house QC Testers individually inspect every handset for visual defects. This check identifies damage to the chassis and LCD/digitiser, bloated batteries, blown water indicators and heavy wear and tear.
2-Cosmetic Grading
Each handset is individually examined and the cosmetic condition assessed, the device is then categorised into one of the following grades:
Pristine -This is an exceptional product showing almost no signs of use.
Very Good – This product is in very good cosmetic condition, and although there may be some light signs of use.
Good – This product will show moderate signs of wear and tear.
Grade C -An item that has been previously heavily used. The item will have signs of cosmetic wear and tear including scratches, scuffs, chips, cracks, dents and marks.
3-Charge
In preparation for functionality and network checking each device is fully charged
4-Network Testing
UK Network SIMS are inserted into every device to determine the lock status.
5-Full functionality test
We use industry certified self-diagnostic testing software to test the features and functionality of every one of our handsets. Once these tests have been completed our systems are automatically updated with the results and a report produced.
6-Sanitation
This is the final part of the process. Each unit is surgically cleaned and sterilised using specialised electrical contact cleaner designed to be used on sensitive electronics that removes dirt and bacteria. The contact cleaner rapidly penetrates hard to reach areas and is fast drying without leaving any residue.
The contact cleaner we use has a KB value of 205 which is leaps and bounds above cheaper alternatives that typically have a KB Value of 50. The KB Value (Kauri-butanol Value) is an international standardised measurement of solvent power for a hydrocarbon solvent.
ReturnsWe accept returns within 14 days but only, and strictly, in the event that the item is in exactly the same condition it was sent and only if no attempt has been made to repair it. In the event that an item is returned where a repair has been attempted and failed or parts are missing or have been swapped we will action a claim via eBay and reduce/cancel any refund.
We apologise if this seems harsh but we have had previous instances where further damage has been caused by buyers who do not have the experience to carry out the repair or where the unit has been harvested for parts and just sent back to us, as a result we have been advised by eBay to place this disclaimer on our listing.

Please note, each and every handset is security marked to combat fraudulent returns.DeliveryOrders will be dispatched within 2 working days of confirmed payment. Products will be sent via a tracked Royal Mail or UPS service, including international orders.
Your eBay order will be updated with the tracking information and courier once it has been dispatched.
In the rare event an order doesn't arrive, then we adhere to courier's terms and we cannot accept a claim for loss unless at least 20 working days (for items posted to Europe) or 25 working days (for items to the rest of the world) have passed from the due delivery date.
Any damages or loss must be reported within 24 hours of delivery.PaymentWill usually dispatch within same working day if paid before 16:00 BST (excludes weekends and holidays). Expected dispatch time may vary and is based on seller's order cut-off time.Contact UsUnit 13 Castle Park RoadBarnstapleDevonEX32 8PAEnglandKempf Enterprises Ltd Copyright © 2017. All rights reserved.
Click here to buy, and to see similar items
---
Category:  Mobile Phones and Communication:Mobile and Smart Phones
Location: Barnstaple